We hope you enjoyed a great family catch up time during the past two weeks.   We look forward to a term full of sparky learning opportunities, where we strive to ignite the passions of all learners.
Science EXPO 9:00 am  – 3:00 pm, Friday 21 October in The Gym, The Library, The Studio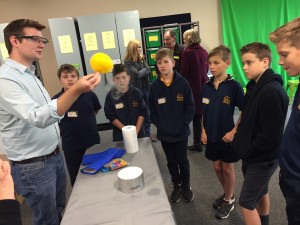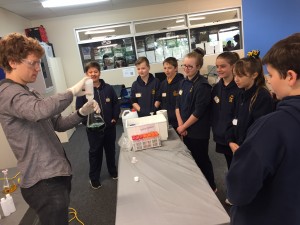 Our science week program  has kicked off with our visiting scientists already engaging students' curiosity.  On Monday we were very pleased  to  have Dr Justin Chalker (South Australian Tall Poppy of the Year (2016)) and two of his PhD students, Scott and Lisa, working with six of our primary classes.  We had some exciting chemistry experiences, while connecting with our key ideas of students understanding how to better observe, how to develop investigable questions and how to conduct fair tests.  We were very lucky to have such good communicators of science helping us.
The Mirror Dome  is set up  in the Atrium and 17 classes will be enjoying that experience this week.  We have some places available for volunteer parents to experience the  Mirror Dome.  If you are interested, let us know so we can reserve a place for you to join Governing Council and Parent Network parents on Friday at 2:15 pm in the Atrium.
We are looking forward to the Science Expo on Friday.  All sorts of wonderful creations are making their way to school this week.  We are pleased to see so many families have taken up the Science Expo challenge.   We are expecting all students to participate by displaying what they have been working on at  home.  We would love students to start bringing in their items so that they can share them with their class over the next couple of days… we know that some students have  videos and activities to demonstrate.  If teachers are aware of any requirements / technology that is needed,  we will be able to make sure  your child's  item  is  set up  in the right space to allow it to be demonstrated the way you would like it.  It may help this process if a USB were provided so that personal devices are not being left  un attended for the day.   All Science Expo items will be set up in the Gym, Library, The Studio, and other spaces if required… We will be setting up on Thursday afternoon.  Teachers need to have an idea of what space is needed for their students' displays so please start sending things in  now…
On Friday 21 Oct we anticipate that at anytime between 9:00 am and 3:00 pm parents and friends will pop in to look at the items on display  for the Science Expo.   During the day classes will be timetabled to be spending time at the Expo;  teachers may communicate that timetable once it's devised.
Star Gazing Evening  has been moved to Friday 4 November… 8:00 pm – 9:30 pm  on the oval    …

See the Rings of Saturn and the Moon up close… free snag for ticket holders…
We have promoted this wonderful opportunity through previous posts. The forecast for this Friday evening is looking a  little foreboding as far as clear skies are concerned.  Dean Davidson,  our Mirror Dome presenter and host for the Star Gazing evening, has recommended we move the evening to  8:00 pm  on Friday 4 November on the oval, when we know there will be a lovely cresent moon to look at as well as good vision of the rings of Saturn.  Should be warmer then, too!  There will be plenty of telescopes and also members of the astronomical society available to help us.  At this stage we have about 20 people booked and we know there will be more  so please contact the school office to make your booking and pay your  $5 per person.  
This evening is also the evening of the disco! That will finish at 7:30 pm, so you might like to then make your way to the oval  and have a snag from the BBQ which will be provided only for ticket holders.  First snag will be free for each ticket holder!!  Don't miss out…get your star gazing ticket now …
Great news on the amazing $10 000 achievement of Felicity Shevchenko's  Room 19 student Kidpreneurs.  
They have won $10 000 worth of prizes for our school  through their Kidpreneur Challenge projects … We are very  proud of the efforts of the whole  class, who were all involved in creating enterprises to raise money for charity by developing and marketing their own products.  The class entered two business teams in the national Kidpreneur Challenge and both teams were amongst the 10 national winners.   They were the only winners from South Australia.
These winning teams will head to Melbourne next month for a money-can't- buy business experience; 'the Kidpreneur-in-Residence Internship' at Moose Headquarters. There they will spend the day with product engineers and a marketing team exploring behind the scenes of Australia's fourth largest toy company. Our school will receive  two sets of the following:  HP Inc Sprout All-in-One Desktop computer, 3D Scanner and Printer.
The girls will create a newsblog post soon, with more detail about their enterprises.
Welcome to  Jodie  Mackrill our new Finance Officer.  We are very happy to have Jodie working with us.  We are looking forward to getting to know her and we know she is meeting lots of people  and enjoying  being here at Woodend.  Jodie has come from Port Broughton Area School.
Reminder that we are  about to begin our 2017 class placement process and need to have any parent input  by Friday 28 October.  We are now seeking some quick feedback from our Year 5&6 families about whether to continue with our  Yr 6/7  boys class  and girls class in 2017.  Please respond ASAP to the note you should receive today (Wed 19/10).  Thank you.