Digital Classroom Spaces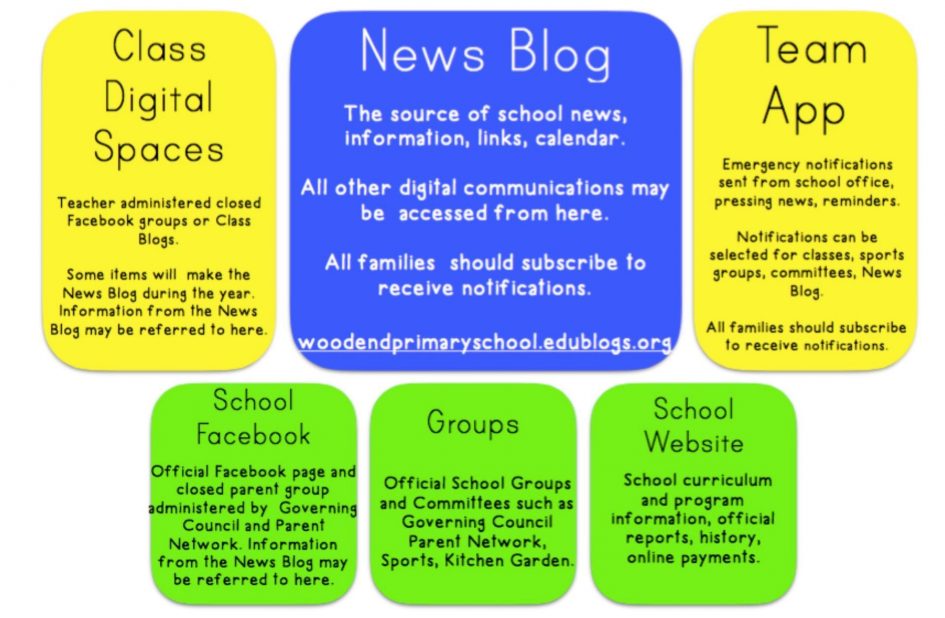 In 2018 all class teachers at Woodend will be communicating with parents via digital media. You can find these spaces below. 
Room 1 – Alanna Maurin
Room 2 – Sara Guinan
Room 3 – Katie Oxenberry
Room 4 – Lyn Kinkert & Hayley Boys
Room 5 – Denise Ogalvie
Room 6 – Jess Harris & Sonya Gallagher
Room 7 – Amelia Bolt
Room 8 – Lindy Podzuweit
Room 9 & 10 – Karen Sheppard and John Brown
Room 15 & 16 – Aimee Aparicio, Jarrod Lamshed and Peta Harnois
Room 17 – Pete Natar
Room 18 – Jennifer Toubia & Cathie Luke
Room 19 – Lesley MacFarlane
Room 20 – Lyn Klinkert & Jude Gabrielle-Smith
Room 21 – Mel Goudie
Room 22 – Belinda Yardley
Room 23 – Marc Saffin
Room 24 – Jess Murphy
Room 25 – Liz Armanas
Room 27 – Courtney Mesecke
Room 28 – Merry Whelan
Room 29 – Don Zampogna
Room 30 – Kelly Green & Tegan Reid
SAPSASA Sport – Matthew Hehner
Library Blog – Felicity Shevchenko
SRC – Student Representative Council
Japanese  – Sarah Vinall  – Rieko Sensei
Class Facebook Groups: Please note that these groups are set up by teachers for their own communication with the parents/carers of students in their class only. You will need to be accepted as a member of the class teacher before you can see content in these groups.
All teachers are expected to be communicating with parents and caregivers on a regular basis.  This has most often been via  diary notes, communication books, class newsletters or  face to face.  Increasingly we have become more able to also communicate via digital media.
Please be aware that our teachers will be striving more often to flavour their communications with the learning intentions underpinning learning activities.   There will also be a significant increase this year in our students publishing, sharing  and improving their work in digital spaces.
We are mindful of the limitations our teachers are working under as we develop and improve our network infrastructure; our technical support systems; our training and development.   We are also mindful of the need to go into changes at a pace that allows our teachers to  process things well, so that they can actually build on  their good practice. Ultimately anything we do must create better learning  opportunities for students. You will see that there is a strong focus on this with all our teachers.
We have made rapid progress towards more effectively using digital technologies for powerful learning. This is great sign of the collaborative efforts and new learning from our teachers, students and also from our parents.
The lists below are a work in progress. More groups will be added soon. We are on a path that will only get bigger and more powerful…