In our learning programs we wish to be taking bigger steps towards really valuing diversity and harnessing the advantages that respecting all may bring.
HARMONY DAY – EVERYONE BELONGS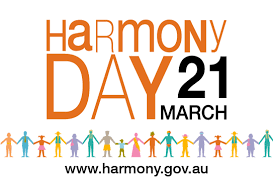 It is a time to celebrate Australian multiculturalism, and the successful integration of migrants into our community.
Australia is a vibrant and multicultural country — from the oldest continuous culture of our first Australians to the cultures of our newest arrivals from around the world. Australia is also one of the most successful multicultural countries in the world and we should celebrate this and work to maintain it.
Our cultural diversity is one of our greatest strengths and is at the heart of who we are. It makes Australia a great place to live. Harmony Day is about inclusiveness, respect and belonging for all Australians, regardless of cultural or linguistic background, united by a set of core Australian values.
Orange is the colour chosen to represent Harmony Week. Traditionally, orange signifies social communication and meaningful conversations. It also relates to the freedom of ideas and encouragement of mutual respect.
At Woodend we are continually aspiring to increase our students' awareness of the importance of Harmony and Diversity.
 WORLD DOWN SYNDROME DAY 
World Down Syndrome Day (WDSD) , 21 March, is a global awareness day which has been officially observed by the United Nations since 2012. It is a day to recognise that it is ok to be yourself and to celebrate the difference in others. The date for WDSD being the 21st day of the 3rd month, was selected to signify the uniqueness of the triplication (trisomy) of the 21st chromosome which causes Down syndrome.
As a school we are going to be wearing our most amazing, colourful or mismatched socks to celebrate 'Lots of Socks!'
During the day we will be discussing what makes us all unique as well as Down syndrome. We will talk about inclusion and how we can all help each other to feel included.
Down syndrome (or Trisomy 21) is a naturally occurring chromosomal arrangement that has always been a part of the human condition, being universally present across racial, gender or socioeconomic lines in approximately 1 in 800 live births, although there is considerable variation worldwide. Down syndrome usually causes varying degrees of intellectual and physical disability and associated medical issues.
Let's show that being different is a good thing and something to be celebrated.
As World Down Syndrome Day and Harmony Day fall on a Sunday this year, we look forward to celebrating on Monday 22 March.
WHAT DO WE WANT STUDENTS TO DO ON MONDAY 22 MARCH?
On this day, we ask that your child wear some socks that are going to get noticed – they might be mismatched socks or your craziest and most colourful socks, whatever takes your fancy! The idea is to start a conversation, so when people ask you about your socks you can tell them, "I'm wearing them to raise awareness of Down syndrome". 
Students may also choose to wear the Multicultural school top; "EVERYONE BELONGS" if they still have one that fits. If not, they may choose to wear orange. Students are free to wear orange for any or all of their clothing on the day, however ORANGE HAIR is not acceptable as coloured hair spray can cause discomfort and/or allergic reactions for some students and staff in the classroom setting.